---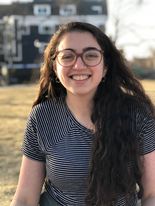 Sarah Binney (she/her)
Sarah became interested in the intersections of Judaism and social justice while organizing a student-run Jewish community at McGill University in Montreal. After graduating in 2019 with a degree in Linguistics and Spanish, she moved back to her home state of Massachusetts. Before JOIN, Sarah worked in Public Health at the state level. Her JOIN placement is at Massachusetts Advocates Standing Strong where she will be organizing local disability advocacy groups in Southeast Massachusetts. She loves celebrating Shabbat, taking long walks on the esplanade, and making pickles.
---
Michaela Caplan (she/her)
While at Dartmouth College, Michaela was involved with IfNotNow and a variety of student-led organizing efforts. She took a year off from school to volunteer as an EMT at the Indigenous-led Standing Rock pipeline protest, an experience that solidified her dedication to power-building and organizing for transformative change. After graduation, she worked as a field organizer and as a regional field director on the Bernie 2020 campaign. She then worked at a Covid respite hospital for houseless people and then as a field director for a progressive MA-based congressional campaign. Most recently, she has been working as the Communications Coordinator at Community Change, Inc., and will be continuing this work while also joining T'ruah as their Boston Organizer. Michaela is excited to be part of the Empower Cohort and to explore the intersections of disability justice, Judaism, and organizing. She is also looking forward to forming community with other organizers navigating disability and chronic illness. In her free time, Michaela loves writing, walking her dog, and making lentil soup.
---
Miriam Cohen (she/her)
Miriam grew up in a small town in Maine and graduated from Yale University in 2020 with a degree in American Studies and Education Studies. In college, she organized with a student group that advocated for better financial aid and for local labor issues. Miriam started working for Massachusetts Interfaith Power and Light in October 2021, organizing religious communities around climate justice. She is developing Mass IPL's new project to convene interfaith teams that will coordinate their local faith communities in climate justice work.
---
Sarah Fadem (they/them)
Sarah (they/them) is working as a JOIN and Empower fellow with a placement at SEIU 509, organizing within higher education. They have done a wide variety of organizing within the youth climate, racial justice, student and labor rights, and anti-occupation of Palestine movements over the last six years. Sarah is interested in learning and practicing anti-imperialist and anti-capitalist action, and has spent much of the last two years since graduating from Bennington College invested in street protest. Their free time is joyously spent cooking fancy vegan meals for their collective house, biking around the city, and dancing at queer functions.  
---
Emma Gelbard
Emma Gelbard recently completed JOIN's Access to Power Fellowship, and is excited to spend this JOIN and Empower Fellowship year with Disability Policy Consortium MA. After graduating from Cornell University in 2015 with a degree in Feminist, Gender, and Sexuality studies, as well as concentrations in Art History, Creative Writing, and Fine Arts, Emma moved to Boston. In Boston, Emma has spent the past several years working as an artist and organizing for immigration justice with Never Again Action. Emma's art focuses on how strange it is to have a body, and how wonderful it is to share stories with it – powerful stories are what brought Emma to community organizing. 
---
Zoe Grodsky (she/her)
Zoe works for the Cumberland County Food Security Council in Portland, ME. Zoe began her position as the Food Fuels Learning Coordinator in October of 2021, working towards food equity and access in the Portland Public Schools. Zoe graduated from Middlebury College in February of 2021, where she studied Sociology and Education with a focus in social movements and environmental justice. Outside of work, Zoe loves making amateur pottery and exploring the many beaches and forests of Maine!
---
Annessia Jimenez, she/hers
Annessia works as a Community Organizer at Worcester Common Ground, a community development corporation that works to improve the neighborhoods in Central Worcester. They work to provide low-income residents with affordable and safe housing. Annessia's work focuses on creating positive relationships with tenants, local businesses, and the city to create a better community for everyone. Annessia graduated from Suffolk University in Spring of 2020. In recent years, she has become very interested in worker rights and safety, starting when she helped to organize a union at the independently owned movie theater she worked at. Since then, she has seen how powerful community organizing can be and is excited to continue making a difference.
---
Benji Kemper (he/him)
Benji works for the Center for Living and Working  in Worcester, organizing for the rights of people with disabilities.  Benji graduated from Brandeis in 2020 with a degree in Business.  At Brandeis, Benji coordinated Language and Cultural Enrichment, an afterschool program for middle school English Language Learners.  Benji taught 6th grade social studies as a Teaching Fellow at Breakthrough Miami where he encouraged students to think critically about history and politics.  Benji enjoys watching and playing sports, tutoring, and reading.
---
Thomas Moser (He/Him)
Thomas is joining NewVue Communities as a part of the Jewish Organizing and Empower Fellowship, to help with vaccine initiative campaign in Fitchburg MA, and take his first steps to further develop his leadership skills in the career of community organizing. Thomas first got involved with NewVue by joining their Arts Stewards program in the Summer of 2019, shortly after graduating from Mount Wachusett Community College with a degree in Liberal Arts with Art Concentration that same year. Before transitioning to NewVue, Thomas held a career in Human Services, advocating for adults with special needs. Thomas also has a background in creating public art to help develop safer and more lively outdoor spaces in Fitchburg, as well as utilizing his personal art to help spread messages of Art-Activism "ARTivism" both through museum exhibition and shows that he helped co-contribute & co-organize with members of Arts Collectives from Fitchburg, Clinton, Framingham, Worcester, and beyond. Additionally, Thomas has also taken his coordinating efforts in the direction of helping work as a volunteer with Fitchburg creatives and organizations to co-found an affordable art studio space that can uplift local community members.
Other contributions and hobbies that Thomas has enjoyed over the last few years have been cooking food for people in need of free meals, experimenting with new recipes, gardening, and finding a way to balance an enjoyment/understanding of all other forms of creative expression. 
---